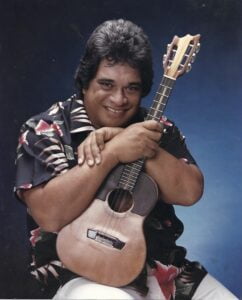 Wilfred Nalani "Moe" Keale one of Hawai'i's most loved entertainers, was born on the island of Ni'ihau on December 3, 1939. Moe was of pure Hawaiian decent and came from a family gifted with tremendous musical talent and powerful spiritual understanding. Moe started playing 'ukulele at the age of 5 and continued to play though out his life. Moe's mentor was Pilahi Paki – a living treasure, niece of Abner Paki, great, great niece of Kamehameha Nui, and first cousin to Iolani Luahine. Pilahi grew up in a traditional Hawaiian family that lived off an ahapuaha in Lahaina. In the later years of her life she met a man called, Tutu Naluahine who choose her as his haumana and eventually blessed her with his expertise of the ancients. Shortly after receiving this knowledge, she awoke one morning to find written on her tablet and in her own hand:
A stands for akaha'i. Hawai'i meaning kindness, to be expressed with a feeling of tenderness.
L stands for lokahi. Hawai'i meaning unity, to be expressed with a feeling of harmony.
O stands for olu'olu Hawai'i meaning agreeable, to be expressed with a feeling of pleasantness.
H stands for ha'aha'a. Hawai'i meaning humility, to be expressed with a feeling of modesty.
A stands for ahonu'i. Hawai'i meaning patience, to be applied with perseverance.
Although she could not remember writing it, she had a sense that a higher power had given this to her and knew that this was much more than the word she was familiar with that commonly meant hello or goodbye. She contacted her mentor and he simply said, "Now my child, you hold the secret to Hawai'i's future, a secret you need to share with the world, for it is the answer to world peace". He explained that in ancient times; the word Aloha- "meant the spiritual essence of God in Man. That every living creature contains this essence and if we were to recognize that essence, that power, in every living creature that connects us all to the same source-how could we harm another living thing". Pilahi's message has become very well known in Hawai'i and in fact was made a part of the State's Statutes.
When Pilahi passed away in 1985, she passed on her mana and kuleana to her hānai son, Moe Keale. She entrusted him with the responsibility to share ALOHA with the world. Moe accepted this responsibility and over the years went from "Living Aloha" to "Being Aloha". He touched every soul he met no matter where they came from or what color they may be. He had profound effects on those he met who needed healing or to be understood.
Moe knew that he had been gifted with his voice and unique style of playing the 'ukulele, that continually put him in the public eye. He knew that as an entertainer he was able to reach out to and influence more people than if he had had a "normal" job. This influence inspired him to "Be Aloha" and share its essence with all he met.
Moe passed away from a massive heart attack on April 15, 2002 after a near death experience a year earlier, where he had suffered a sudden Cardiac Arrest while working out at the gym. Such a condition usually results in no chance of survival. According to the Doctors, Moe was legally dead for 7.5 minutes and then he began breathing again and fell into a coma unarousable and unresponsive. His doctors expecting him to be brain dead or to never wake up. Instead after 4.5 days, Moe awakened and was fine. He spoke of sites he had seen on the other side, music he had heard, and the loved ones he had seen.
Moe knew that he had survived to share his message of Aloha and to get the message out to the public that defibrillators should be placed throughout the state. By a miracle, Moe had been given back the gift of life and he wanted to give back more than ever. As an entertainer, he knew he could reach a much larger audience than the average person and he did his job well and fulfilled his dream. Do to his efforts, in one year, he changed the rate of Cardiac Arrest survival, with defibrillators now placed at all libraries, schools, and airports.
His final gift was the Moe Keale, "Aloha Is" award created to acknowledge entertainers who use their public persona for the betterment of the community. Entertainers have a great deal of influence on their fans and on the general public and so many of them have done so much to help many though out our communities without being paid or recognized for their deeds. The Aloha Is Award recognizes recipients with a Kamaka 'Ukulele and $1,000 provided annually by Judith Puna Flanders and the "Flanders/Staub Ohana". Each year previous recipients can nominate others and vote to determine who the next award will be presented to. The Award is presented by Carol Keale through the Na'alehu Theatre 501 (c) 3 at the Hawai'i Academy of Recording Arts (HARA), Nā Hōkū Hanohano Awards.
Winners of the Moe Keale "Aloha Is" Award
2003- Frank Delima
2004 Kimo Kahoano
2005 'Aunty' Genoa Leilani Adolpho Keawe-Aiko
2006 Jerry Santos
2007 Eddie Kamae
2008 Nina Kealiiwahamana
2009 Brother Noland Conjugation
2010 George Ka'ahumanu
2011 Carol Kai
2012 Haunani Apoliona
2013 Honolulu Skylark
2014 Ku'uipo Kumukahi
2015 Melveen Leed
2016 Jimmy Borges.
2017 Billy V. 
2018 Frank Kawaikapuokalani Hewett 
2019 Ledward  Kaapana
2020 Lea Uehara
2021 Harry B Soria
Aloha Is A Part of Me A Part of You
Pilahi's message has become very well known in Hawai'i and in fact was made a part of the State's Statutes.
Pilahi Paki – Keeper of the Secrets of Hawai'i
He had profound effects on those he met who needed healing or to be understood.
The Meaning behind the Spirit of Aloha
Hawai'i Academy of Recording Arts (HARA), Nā Hōkū Hanohano Awards.
Aloha Is
Lyrics by Pilahi Paki/music by Jay Larrin/vocals by Moe Keale
From the recordings, "Aloha Is A Part Of You, A Part Of Me," by Moe Keale
Aloha is a promise the sun will shine again,
Bringing fresh hopes and dreams,
With each new day that begins.
Aloha is the sunlight,
Shining through the darkness,
Giving strength, giving strength, to all we do.
Aloha is His grace, walking in the sunlight,
Feeling the beauty of life,
Feeling the beauty of life.
Aloha is His helping hand,
His warm and comforting voice.
It is peace, be with you,
In Love forever and always.
Aloha is the mind, the heart,
In perfect harmony,
It's tenderness and love,
Deep in the heart of Hawaii.
Aloha is Hawaii, Hawaii is Aloha,
Hawaii is Aloha ia oe, I love you,
Aloha au ia oe Hawaii, I love you.
To learn more about the life and works of Moe Keale Please visit his profile on wikipedia at: https://en.wikipedia.org/wiki/Moe_Keale